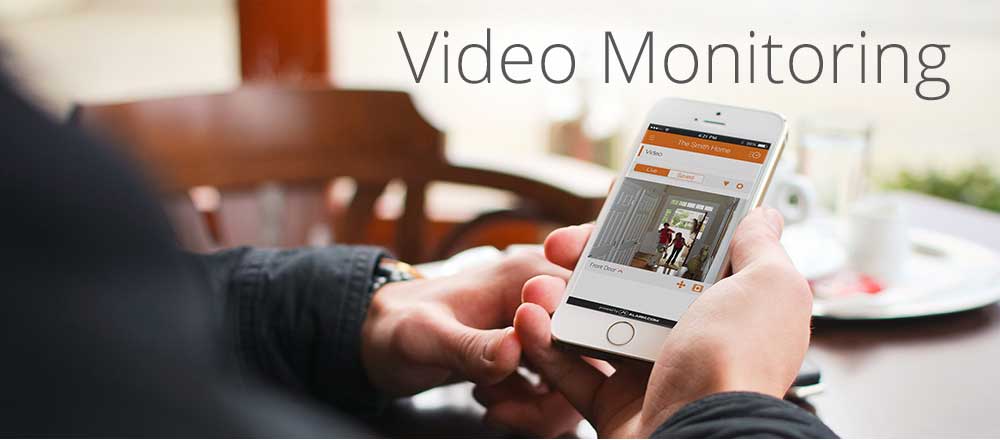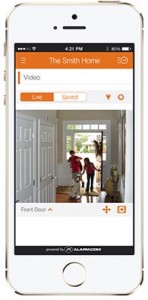 See what you care about, instantly
See what's happening at your property in real time, get instant alerts with smart clip capture and never miss a moment with continuous recording. Now it's easy to check up on the kids, your pets and valuables, and see what's actually happening in the event of an alarm.
Alarm.com's Video Monitoring service offers a best-in-class end-to-end video solution. It includes anytime live streaming, smart clip capture with secure cloud storage, instant video alerts and continuous high definition recording.
Who's At Your Front Door?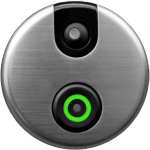 With so much activity around your front door, it requires smarter home security technology to keep it secure but also convenient to access. Link Interactive gives you even more awareness and control of front door activity with the Wi-Fi Doorbell Camera, Skybell HD Edition.
The smart doorbell camera is completely integrated into your smart home security system, letting you see who's at the door whether you're home or not, have a two-way audio conversation with visitors through your Alarm.com app, and even unlock your front door's smart lock from the same screen.
Once installed, the smart doorbell also becomes a smart home security camera, able to record and send you motion-detected or doorbell-activated clips, or clips triggered by other devices like your garage door. Its motion sensor can also trigger other devices, such as your porch lighting, to deter potential intruders.
---
Live Streaming Video
Watch live feeds from your property right on your phone, tablet or computer. See what's happening anywhere on your property, at any time.
Use your Smartphone to view live streaming video while away from your property.
HD quality and great lowlight performance make for crystal clear video.
Simultaneously view multiple locations on the same screen, such as your vacation home and primary residence.
Remotely move the Pan/Tilt camera via the web, Smartphone or tablet to see different views of a location.
HD quality and great lowlight performance make for crystal clear video.
Integrate existing video cameras with your Alarm.com security system.
---
Video Alerts
Smarter than traditional stand-alone video monitoring, Alarm.com video monitoring is connected with your security system, allowing you to set recording triggers when activity is detected. You can choose to receive video alerts by text or email, and customize them by time, day, camera and motion.

---
Smart Clip Capture
Alarm.com's recorded video features make it easier to stay on top of what's happened at your property. Alarm.com video cameras work around the clock, hand-in-hand with your security system.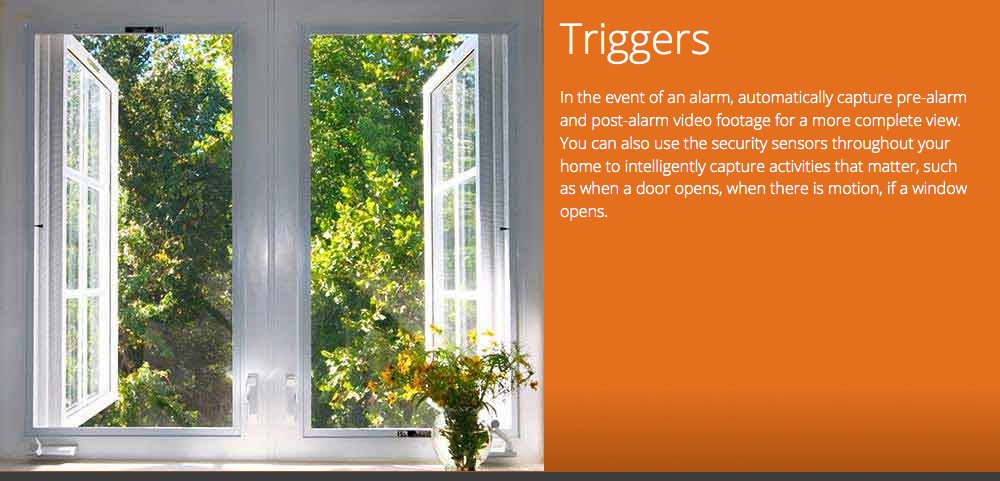 Additional Services