Get A Quote
For most Americans, purchasing a new home is a big investment. You'll want to make sure your home is not only gorgeous but worth every penny you spend on it.
But making a good investment can often be overwhelming, especially when you're buying a home for the first time. That's why you need a comprehensive checklist. It'll improve your confidence and prepare you for the best results.
Are the Doors Secure?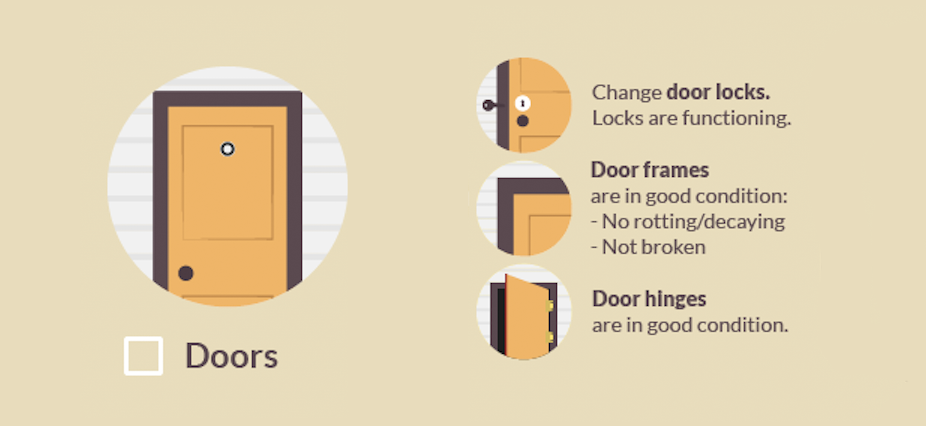 When it comes to new home security, never forget to consider door locks. You never know who have keys to the existing locks, so it is important to always install change and new locks to every entryway. Inspect door locks as you enter each room. For improved security, install additional deadlocks where only doorknobs are present. Verify that the most secure locks are present at entry/ exit points like the front door. This will make you feel safer in your new home and prevent break-ins in the future.
Inspect the door frames and trim pieces to make sure that they are secure, and not rotting nor decaying. It is always safer to replace wooden door frames with metal or steel frames.
Are The Electrical Outlets Safe?

Another thing to consider when buying a home is the electricity. No one wants a home which contains poorly installed electrical wires and outlets. After all this could result in damage to home, appliances or worse, result in the loss of human life.
Start by checking the breaker panel – the wall-mounted box full of switches that controls each room's electricity supply. It may look tricky but it's not that complicated once you know what to look for. The breaker panel or circuit breaker should appear to be in a good condition. If the house is less than 2000 square feet it'll need a 50-amp, 100amp or 150-amp circuit panel. Bigger homes require even bigger breakers – a 200-amp to be exact.
After checking the circuit breaker, also check outlets in individual rooms to ensure the house has sufficient to satisfy the needs of your family. Size up the safety standards of the home's electrical outlets by checking for ground fault circuit interrupters (GFCI) outlets in bathrooms as well as kitchens. These prevent electrical shocks from occurring.
Check HVAC Units

When it comes to a home's heating, ventilation and air conditioning (HVAC), it's important to ensure the best equipment and systems are in place. Otherwise, only one thing can result and that's 100% disaster.
During any DIY home inspection check HVAC to determine if the equipment is modern and energy-efficient – you'll reap huge savings on your energy bill! Also determine whether or not the equipment is the right fit based on the size of the home. Don't be afraid to get a professional's help if you're not sure what to look for.
What About Plumbing?

You don't need to be a plumber to spot problems with a home's pipes! Simply put: look for leaks in pipes and drains.
Begin your hunt for leaks in places like the basement. You can detect plumbing issues by relying on your sense of smell and sight. Sniff for moisture. Spot mold or mildew in corners, beneath carpets and look for soak spots on basement walls.
Other areas where you'll most likely detect plumbing problems are in the kitchen and bathrooms. Check beneath sinks. Also turn on each faucet to determine if the water pressure is adequate.
Test Fire Alarms and Carbon Monoxide Detectors
Fire alarms and carbon monoxide detection should be a major concern for every home owner. Though this is often overlooked on the average buyer's new home inspection checklist, you can easily avoid making this mistake.
Start by asking the home owner or agency directly. Find out how many alarms/ smoke detectors are installed and run a fire test to see if they work properly. Remember to keep a picture of your dream home in mind. And most of all, avoid making decision that compromise safety.
Are the Windows Secure?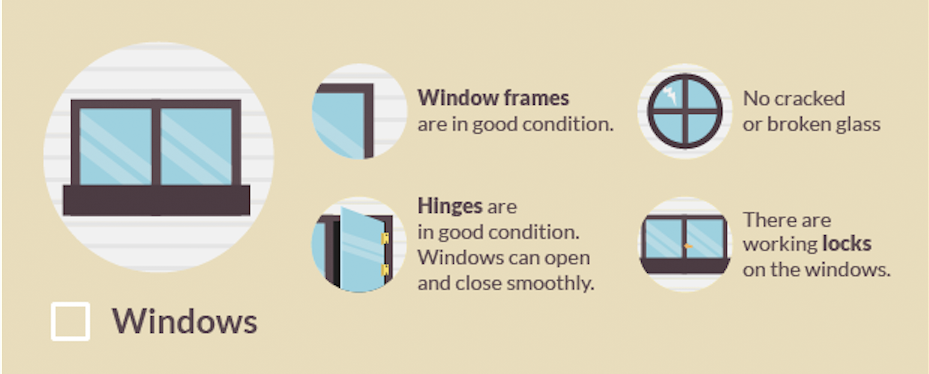 Windows along with doors are often used by criminals as entry points during a break-in. For this reason, ensure new home safety by inspecting each window. Look for broken hinges or glass or anything that may compromise security. As you complete you inspection, keep in mind that the windows should be aesthetically appealing, functional and most of all secure.
Is the Roof Leak-Proof?

Avoid the nightmares some new homeowners face by ensuring a thorough inspection of the roof before you buy your home. Look for lose, broken or missing shingles and tiles, leaks and other issues that may be present. Check the interior – for example the attic -- for issues with ceilings as well.
Be sure to never underestimate an issue. Subtle warning signs can help you detect serious underlying issues. For instance, a ventilation issues can lead to dry rot. Signs of dry rot on a roof foreshadow a crumbling roof in the not so distant future.
Also check the drains on the roof to ensure they are up to form. If there are obvious flaws in the roofing, get a professional to estimate the cost of renovations and then determine if it's worth it.
Chemicals and Flammables
Every home has its own story to tell. And as is the case with books, never judge by the cover. One hidden secret you probably don't expect to see on a new home inspection checklist is "chemicals and flammables". But here's why you should include it as you search for the best home.
When a home is being build, contractors sometimes use products that contain dangerous chemicals or flammables. Some of the most dangerous chemicals including asbestos, radon or lead paint could be lurking within walls, pipes and drains.
Though government regulations often restrict the use of such harmful substances, it is your duty as the potential home owner to ensure you know exactly what you are purchasing. Make no assumptions. Ensure you discuss these concerns by finding out the age, history and materials used in building the home.
Your new home should be all you've ever dreamed of and more. With a comprehensive checklist like the one mentioned above you can make that possible.
Download Or Share This Checklist For Your Next Home Inspection: