Get A Quote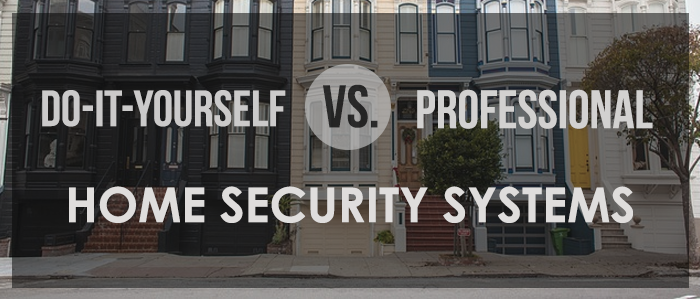 Approximately two out of every three break-ins occurs at residential homes. The latest reports show that more than 2 million homes are broken into every year just within the United States. Many homeowners believe that home security systems are there solely to protect their property. While it certainly serves this purpose, these systems also protect loved ones from criminals and emergency situations. Therefore, the decision to install a home security system is not a difficult one.
Once the decision has been reached to purchase a home security system the next decision is generally whether to choose a do-it-yourself set-up or have one professionally installed. Both installation methods are equally effective, but it is important to be informed so you can choose the method best suited for you.
DIY Home Security
One of the greatest advantages of installing a DIY system is that it eliminates the installation fee. A common misconception is that a professionally installed home security system is better because it is more sophisticated. There are a wide variety of home security systems to choose from. The degree of technology is dependent upon the system, not who installs it.

Customization and flexibility are two additional advantages of do-it-yourself home security systems. This allows homeowners to fit it into their personal schedule instead of juggling their time to meet the contractor's appointment. A self-installed system may be upgraded and updated at any time the homeowners choose. They can add or remove components to fit their families' needs. In addition, if you decide to move to a different home, you can also easily move your system with you at no additional costs.
All security systems require maintenance and, from time to time, repair. Homeowners often do not know enough about professionally installed systems to perform these tasks. Those who have installed the system themselves are much more familiar with the mechanisms. They do not have to allow a stranger into their houses either. Whether these individuals are trustworthy is one consideration, of course, but most people are simply not comfortable allowing strangers to enter into their homes. In addition, homeowners incur an additional charge each and every time the company sends out personnel.
In the end, installing a home security system is not all that difficult. Just about any do it yourselfer is able to accomplish it, especially now that most DIY security systems are actually wireless. The biggest reason homeowners hire someone is not due to complexity, but because they lead busy lives and simply do not have the time to invest into such a project. Overall, the most common reason why families choose self-installed systems is the tremendous savings on installation, repairs, maintenance, and upgrades.
Professional Home Security Installation
As previously mentioned, many homeowners opt for professionally installed home security systems because they do not have the time to spare. Professionally installed home security systems are much more convenient for individuals with busy careers and families. A professional can also walk you through the system that he/she installed and give you additional suggestions on how you can secure your home. However, that convenience does come at a price. A professional contractor may charge up to several hundred dollars for just the installation.

The installation company is usually happy to visit the home to perform maintenance, repairs, and upgrades; however, they do charge for each visit as well as any additional equipment which may be required.
The decision of installing a home security system or hiring a contractor comes down to a couple of basic factors. One is time constraints and the other is mechanical knowledge. Those who have the time and knowledge to install the system themselves can save a large sum of money by making the decision to choose a DIY security system.
Monitoring
Having a home security monitoring system is always better than not having one. Although there is a reoccurring expense, home monitoring systems provide additional security and peace of mind for the entire family. In an emergency situation, regardless of what it is, monitoring companies immediately alert the proper authorities to be dispatched as quickly as possible
.
Whether you choose a DIY home security or professional security system, you can rest assured that both offer the option of a monitoring service and peace of mind.