Get A Quote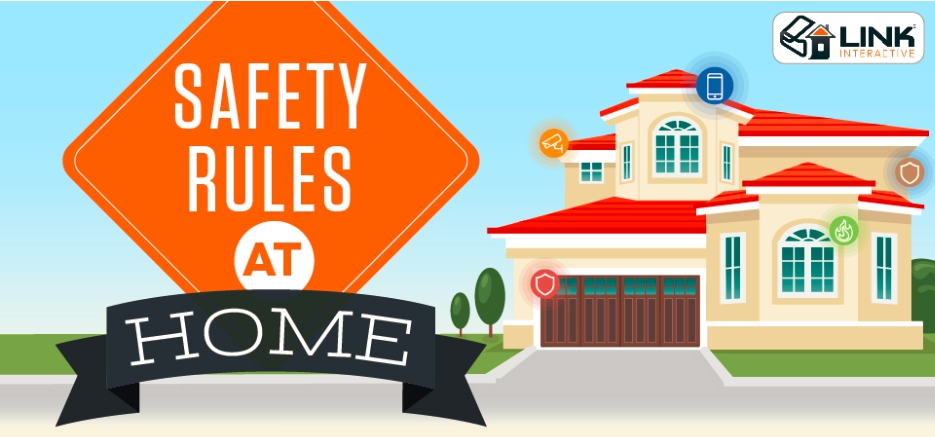 Your home is the place that you and your family should be able to feel the safest in. When you come home from a long day at work, you want the reassurance that all of your personal belongings are still there. At night, you want to know that you and your family are safe in your beds. Making sure your home is secure from unwanted household guests (thieves, and kidnappers included) can seem like a challenge, but practicing the right safety precautions can dramatically decrease these risks. Here are some safety tips and rules to ensure that every member of your household remains safe from not only external factors, but also natural disasters and risks within every room of your house.
Safety from Strangers | Tips for Talking with Children | Infographic
---
General Safety Rules
Approximately 33% of Americans keep at least one gun in their household. Another statistic shows that more than 270 million civilians in the U.S. own a gun whether licit or illicit. It is extremely important that children are taught not to touch any gun. Even if a child's home does not keep a gun, the above statistics show that the odds are very good that a friend's home does.
Guns should be kept safely under lock and key. Only adult family members who have received firearm instruction should have keys. Many home security companies offer alarm systems which detect doors and windows being open. These may also be used for gun safes, medicine cabinets, and outside buildings.
All family members should be familiar with the home's security system. They should know how to arm and disarm it as well as any necessary passcodes.
It is important for the family to have planned procedures for all types of emergency situations, including natural disasters. It is a good idea to practice these until every member knows exactly what to do. It is also a good idea to conduct a practice run periodically so that no one forgets.
Everyone in the household should be instructed on what to do if the smoke detector or fire alarm sounds. Households with children should have a floor plan of their home depicting two ways of escaping a room, including windows and doors. In case of a fire, also have an outside meeting place.
It may seem like this goes without saying, however, it is surprising how many individuals forget this small, but powerful step. Make sure to lock all windows, doors, and gates.
Place all important emergency telephone numbers in an easily viewable central location. Include emergency services as well as poison control phone numbers. The refrigerator door is one excellent place.
Be sure that children and the elderly know basic contact information. This includes the complete address, cell phone and landline numbers, parents or children's full names.
All homes should have a fully stocked first aid kit. The Red Cross provides tips on what to include in first aid kits.
---
Safety in the Kitchen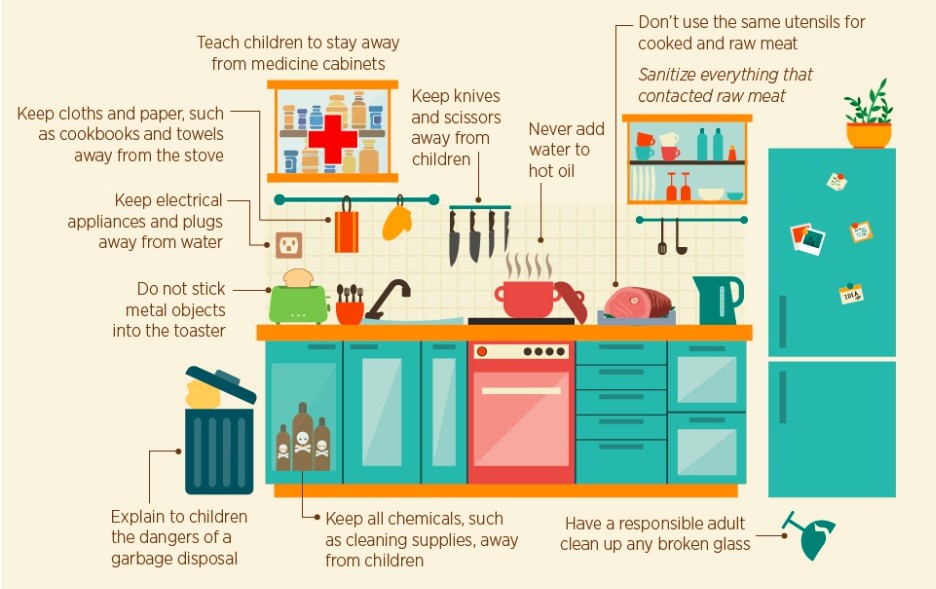 Make sure that all chemicals including those for cleaning are kept out of the way of small children. It is also important to explain to them why these things are dangerous.
Never let any electrical appliance or plug make contact with water in order to avoid electrocution.
Do not allow any cloths such as towels or paper such as cookbooks to make contact with the stove. This includes pot holders. Once it has been used to remove the item from the stove place it well away from any heat source.
Never use the same utensils for cooked and raw meat. Be sure to sanitize surfaces and dishes that may have been in contact with raw meat.
Be sure that sharp objects such as knives and scissors are kept away from children. Make sure everyone understands the dangers of running with these types of items.
Keep pots and pans out of the reach of children. They can grab the handle and the heavy objects can easily fall onto them.
Explain to children and the elderly that broken glass is very sharp and dangerous. It should be cleaned up by a responsible adult. A wet paper towel works excellently.
Explain to little ones that garbage disposals are not toys and they should never stick their hands down in one.
Make sure everyone knows that microwaved water is extremely dangerous. Because of the waves it uses to heat water, the liquid may not boil over until the microwave is off and the container is being moved.
Avoid adding water to hot oil as this can cause an explosion.
Always wash hands before and after touching food.
Never stick objects such as forks or knives into a toaster.
Teach children to stay away from medicine cabinets and medications. As mentioned above, there are special sensors which detect doors, windows, and gates being opened.
---
Safety in the Bathroom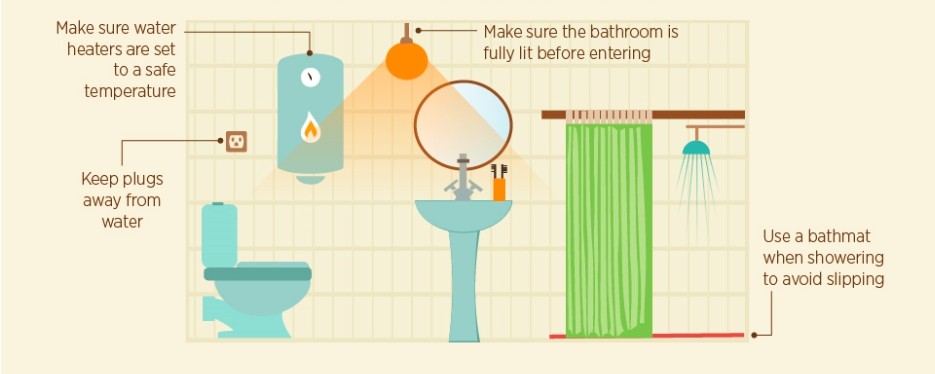 All plugs and bathroom appliances should be kept well away from water to avoid accidental electrocution.
Always use bathmats when showering and keep the floor dry to avoid slip and fall injuries. It is a good idea to place no slip grip stickers in the bottom of the tub.
Explain to children the danger of running and playing in the bathroom.
Always turn on the light before entering the bathroom. Plug in a night light for added measure.
Ensure that water heaters are set to safe temperatures. It is best to set water heaters around 120 degrees to avoid burns. According to the Burn Foundation about 5,000 children are scalded by hot tap water in America every year.
---
Safety From Strangers

Ensure that children know it is not safe to open the door for any stranger. It is also important for every member of the family to know what to do in the event that a stranger does gain access to the home. There are wireless plunger door sensors available which are completely concealed and alert residents if the door is opened.
There are security systems in today's technological world which provide streaming video of home and property. This allows owners to see what is happening in and around their homes in real time. This type of security monitoring adds another element of security for the entire family. This streaming video feed may be accessed using a smart phone and app.
Ask family members, including children, to inform an adult if the home has been receiving suspicious phone calls. Sometimes thieves will call to find out if anyone is home.
Make sure that children know that they should never reveal vital personal information to strangers such as addresses, phone numbers, and names. - There are several avenues that criminals use to gather this information including the telephone and via the internet. Strangers may even go as far as to knock on the door or approach children in the park to gain personal information.
---
Tips for Talking with Children about Safety
There are numerous things which parents and elders must teach children about safety. Many find this a difficult subject to broach. The information which children receive should be honest and straightforward, but it should not scare them.
• It is important to explain to children that while most individuals, strangers or known, are inherently good, not all people are.
• Children should understand how to react when they encounter a stranger. It is a good idea to set up a code word that only children and safe individuals know. If the individual approaching them does not know the code word, they should find an adult immediately.
• Make sure that children know that they should never open the door for a stranger or anyone who does not know the specified code word.
• Explain what items are okay to play with in the home and those which they should never touch.
• Set rules for eating and cooking while parents are gone from home. Certain age groups can perhaps use the microwave and younger ones can fix snacks or sandwiches instead of cooking.
• Be sure children understand which type of touching is appropriate and inappropriate as well as what to do, if they are exposed to inappropriate touching.
Parents and elders should create a list of safety rules. Make sure all adults understand these rules before teaching them to children. As mentioned above parents should always be straightforward when speaking with children. Try to use a calm voice when speaking with them. Graphic language and details should almost never be used because this may unnecessarily scare them. One of the most important tips for talking with young ones is to use parental instinct. No one knows a child better than the individuals raising that child.
---
class="img-responsive" style="border: 0px currentColor;" title="Home Safety Rules Infographic" src="/images/blog/2015/04/Infographic.jpg" alt="Home Safety Rules Infographic" />
Share this infographic to spread awareness

on these home safety tips!
Sources:
http://www.gunpolicy.org/firearms/region/united-states
http://www.ready.gov/make-a-plan
http://www.nfpa.org/safety-information/for-consumers/escape-planning
http://www.redcross.org/prepare/location/home-family/get-kit/anatomy
http://www.burnfoundation.org/programs/resource.cfm?c=1&a=12