Get A Quote

Home owners are discovering the necessity of home security systems and more of them are making the investment every year. It is extremely important to protect loved ones, valuables, and property. The decision to purchase a home security system is generally a relatively simple one. In fact, the difficult decision presented is whether to choose professional installations or do it yourself systems, and monitored security systems versus unmonitored systems.
All investments have their advantages and disadvantages as well as costs. It is crucial to carefully weigh all of these elements before making a purchase decision. One of the most important factors to keep in mind is that more than 70% of all burglaries in the United States involves residential properties, so investing in a security system is a very smart step to not becoming part of the statistic.
Security System Costs
Home security system costs vary widely and depend upon multiple factors. There are a number of options to consider such as the brand and quality of the equipment as well as the installation company. It must also be decided whether the system will be monitored or not since this is a reoccurring monthly charge which will in turn provide a great deal of added security.
A major cost factor that people don't realize is the size of your home. The larger the home, the higher the costs will be for home security. The reason for this is simple: there is more area to monitor and that can in turn mean more security equipment to install. Generally, a larger house will have more doors and windows. Therefore, to ensure its security, the costs of additional equipment such as door and window sensors can definitely add up.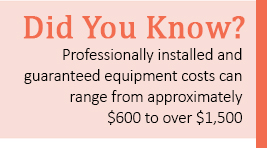 However, the extra money you invest in security systems will not only protect your valuable belongings, but also your loved ones. In fact, one of the advantages of a professionally installed home security system is that the property will be inspected to determine exactly what is best suited for it.
There are several costs that many home owners neglect to consider. Some companies charge for the delivery of the system while others do not. The installation service technician must prepare the project site in order to protect the property from damage. Once the project is complete the entire site will need to be cleared of debris. All of these charges are usually included in the installation estimate.
Just the home security system installation may run anywhere from $300 to $500 or more. This must cover not only the actual installation, but those associated costs listed above. In the end, a mid-range home security professional installation cost can total to about $600 to $750.
Hiring a professional contractor to install a home security system requires a bit of investigation. An appointment for inspection should be scheduled and then another for the actual installation. While professional installation is a much simpler option, it is also much more expensive. This service does not generally allow for very much customization on the home owner's part.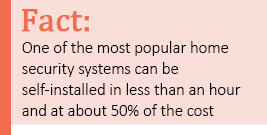 For those do-it-yourselfers who have the knowledge and experience to install an effective home security system, self-installation can save a great deal of money. Many of the charges mentioned previously are obsolete for do it yourselfers. Do-it-yourself installation is free and is a great option for those who have the know-how.
Today, most home security systems are now wireless, eliminating the most difficult step of figuring out how to correctly wire the system. The process can be as simple as hanging a picture on a wall.
Monthly Monitoring Fees
One of the most important elements of a home security system is monitoring. Those who already have a security system in place can usually still subscribe to a monitoring service, depending upon the model. Those who opt for self-installation can also use monitoring services in most cases.
Some companies do offer a discount on installation, if the home owner chooses to subscribe to their monitoring service. That still does not necessarily guarantee that the overall, end cost will be cheaper.
There are several protection options offered through home security monitoring services. For example, smoke; heat; carbon monoxide; and flood sensors may be included in addition to motion and breech sensors against breaking and entering. Monitoring services lend families peace of mind because there is always someone watching the property, 24 hours a day, 365 days a year. The proper authorities may be automatically dispatched within moments of any emergency situation. This is whether residents are away or in their beds.

Monitoring systems are generally setup via the internet; cell phone; landline; or a combination. It is best to ensure that the chosen service provides a backup power source in case there is a power outage. This could be a generator or battery and ensures that the service is not interrupted. Some monitoring services include security cameras and cell phone app synchronization. The app sends motion alerts to cell phones as well as allows users to visually check on homes in real time. In some cases, users have control over lights and heat/air settings as well as door locks.
Of course, installing any type of home security system provides more protection than none at all. As shown above there are several benefits of subscribing to a monitoring service. This is a monthly, reoccurring charge of anywhere from $10 to $70 depending upon the service provider and chosen add-on options. Most home owners strongly believe that the cost of these services are well worth the money.
Final Thoughts
There are many details, options, and costs to consider while searching of the perfect home security system. Most individuals simply do not realize exactly what is involved. Once they start looking, home owners often become quickly overwhelmed. It is best to perform some research and carefully weigh all of the considerations.
The internet affords a simple method of home security system investigation. Ask other home owners, such as family, friends, and co-workers, about their personal experiences and preferences. This is an extremely important investment which should be well thought out before making any purchase decisions. After all, the security of loved ones and the property greatly depend upon it.